For beginners this is the easy way to understand how to use the kinemaster application . Firstly here when we open the kinemaster application click on the plus (+) option then it directly opens into video for editing After opening the application will show ratios i.e 16:9 , 9:16 and 1:1 ratio.
Kinemaster App Download
Select what we want .
After selection of ratio the application will show some option on the right side that is 1)Media 2)Layer 3)Voice 4)Audio
* Select the first option that is media when we tab on media then it opens all the photos , videos , downloads , screenshot all will appears here what ever photos are present all will appear here .
* Next if we select layer then it will show media , effect ,overlay ,text , handwriting.
Select what we want and drag the selected thing .
When we select the media then what ever photos are there in your mobile it will appears here .
Select what we want fro media .
* Later if we select the photo from media then it will show some sub layers that is
1)In animation
In animation will show some sub types that is : fade , pop, slide right , slide left ,slide up,slide down,spin CW,spin CCW,drop, scale up,scale down ,converge,wiperight ,wipe left, wipe up,wipe down,pop outward and so on .
Select which type you want .
2)Overall animation :- in this overall animation there are some sub types that is none ,blinkslow,flicker,pulse,jitter,fountain,ring, floating,drifting,squishing,rain,spin CCW ,spin,CW . Select what you want then it will show that effect in photo.
3)Out animation :- In out animation there some sub types that is none,fade,slide right, slide left, slide up, slide down,spin CW,spin CCW,scale down, scale up,diverge,wipe left, wipe right,wipe up,wipe down,snap inward and so on select which effect you want. Then it will apply on the photo.
4)Cropping : in cropping we can add shapes and feather that is very effective.
5)Alpha (opacity)
6)Colour filter : we can change the colour of the selected photo.
7)Colour adjustment : we change or adjust the color of the photo that we selected.
8)Blending : in blending there are some option that will make your editing outstandingly.
That is Normal, Screen , Multiply,Overlay,Soft light ,Hardlight ,Lighten ,Darken,Colour burn
These are the effects that looks great when you add this .
When we select effects option there are some effects that is in kinemaster application if you want more effects then select get more option and download .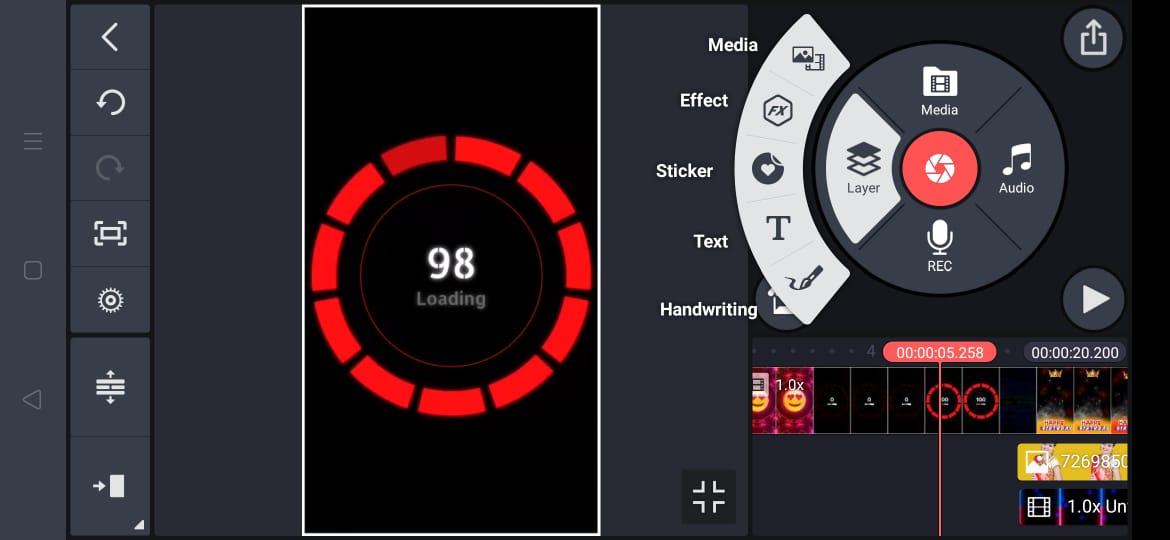 Download Kinemaster App
* Next left side three dots are there(…) like this it will show some options that is
1)send to back
2)bring to front
3)duplicate
* After that
If you select the audio then it will show the want ever songs are there then from these select your song and press on the (+)plus option then it will add to image that you had selected at first.
* Next if you select the voice option then it will show you that what you want to record .
* Next when you select the song then it will ask some options that is
1)Trim to left of playhead
2)Trim to right of playhead
3)split at playhead
4)Extract audio
5)Split and insert freeze frame
Select what you want and click on the tik mark then it will be placed in the position what you selected.
At last after completion of editing of video select on the export option (<:then it will directly exported and save to gallery .
I hope you understand how to use the kinemaster application and how to proceed with the options that you have selected while editing the video .
Follow us in Facebook and Instagram.